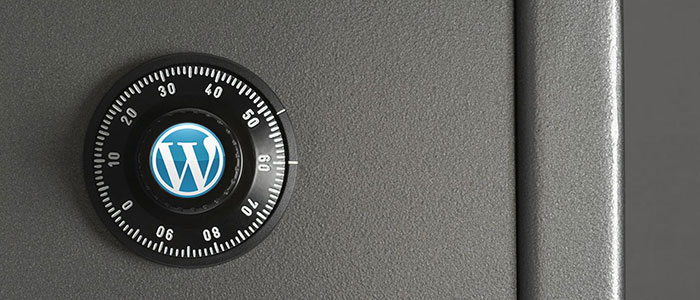 12 Apr

Understanding WordPress website security and why it's so important

It's been a while since I last posted, so while we've got a whole host of great content to bring you over the coming weeks I thought I'd kick things off with a very important topic.

WordPress security. What is it? Why is it important? and What do you need to do?

In the following article you'll get a better understand of how your website is set up, the threats that come with hosting a website online and the actions you can take to protect your business.
Understanding your WordPress website setup
WordPress is an open-source content management system (CMS). It provides the functionality to manage your website settings and content. Agencies, studios and freelancers choose WordPress because it's well supported, powerful and free. Not to mention, it's the most popular CMS used on the internet. This means you get everything you need to run a website without paying expensive license and development fees.
WordPress allows you to install Plugins to add extra functionality. These are usually developed by specialist plugin development companies, 3rd party individuals or the company that developed your website.
A Theme is then applied to WordPress and customised to create the design and layout that your visitors see. Depending on your solution, this theme was either designed and developed by your web design company, or purchased from a 3rd party theme development company.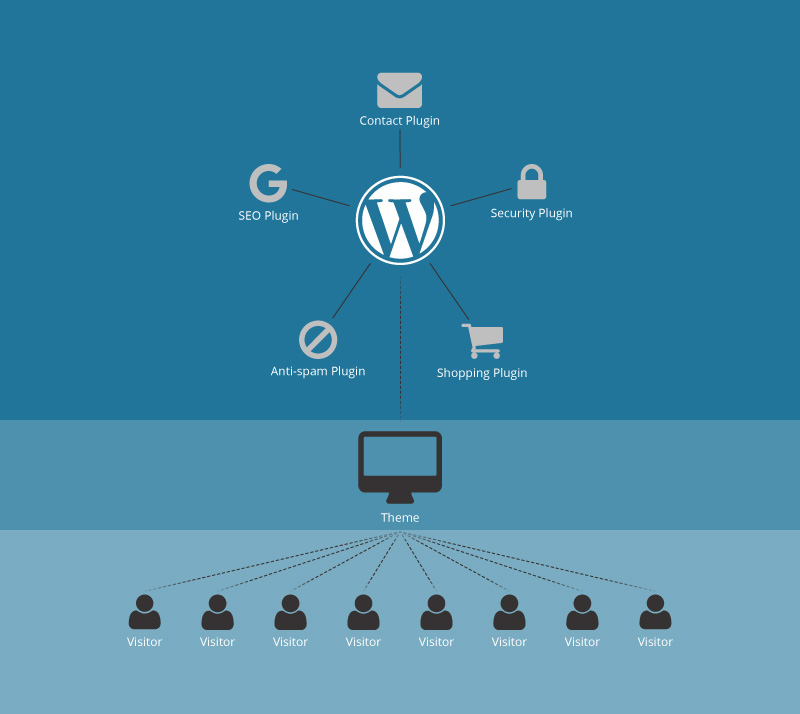 Why should you be concerned about WordPress security?
The developers of WordPress, the installed Plugins and the Theme release regular updates. These are usually to patch any known potential security issues, or to fix any known bugs. In certain updates they release new features or improve existing ones.
The main focus with updates is security. While you may not think anyone would wish to target you specifically, most malicious attacks on websites are automated and random. The attacker will use a network of automated scripts to discover your website and search for any security vulnerabilities. They then exploit these for their own strategic or financial gain. Examples being:
to add malicious links to your website that take your visitors to another website that generates the attacker revenue.
to add virus downloads to your website that once accidentally or unknowingly downloaded by your visitor give the attacker access to their computer and their data.
to send spam emails in your name that contain malicious links or inappropriate content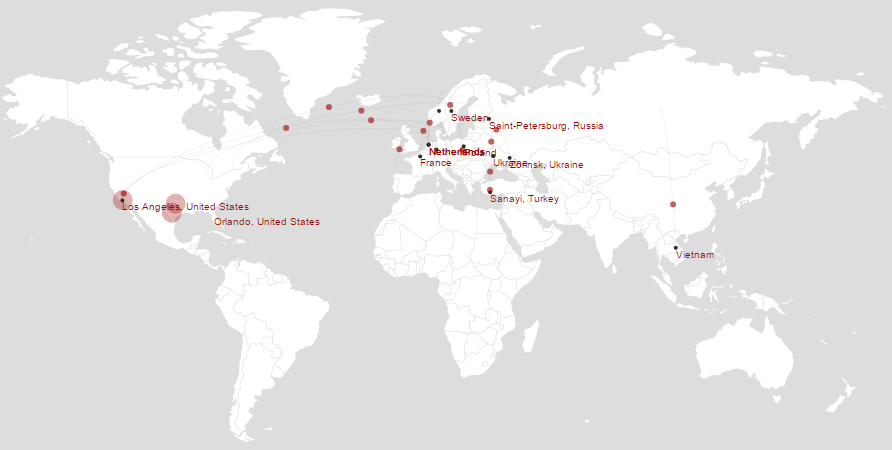 At the time of writing this post this WordPress security plugin estimates a staggering 17587 attacks per minute on WordPress websites.
If you are unfortunate enough to become the victim of a malicious attack, there are several solutions.
If you have backups available, you can revert to a previous version of your website from before the malicious attack. However, if this is not possible, time must be spent to manually source the malicious code and repair it. Depending on the nature of the attack, this can become timely and costly.
While updates cannot prevent a malicious attack, they are your best chance of avoiding exploitation of known vulnerabilities and thus greatly reduce the risk of your website being compromised.
WordPress security updates
There are several options for processing updates:
1) Manual WordPress updates
WordPress provides very simple functionality for updating both itself and any installed plugins. These can be handled by yourself at any time through your WordPress admin. In certain cases, the same can also apply to your Theme.
2) Make an arrangement with your hosting provider
Most hosting providers will offer a level of maintenance that includes WordPress updates. It depends on your hosting provider whether they will update WordPress, Plugins and your Theme, but in most cases they will offer automatic, or monthly updates.
3) Setup a WordPress support package
Certain companies specialise in WordPress support and offer a range of packages that address the ongoing maintenance of your WordPress website, including updates. Again these may be automatic or scheduled, such as monthly or weekly and will provide a support service tailored to your unique setup.
Extra WordPress security
While keeping up to date is the best way of avoiding exploitation of known vulnerabilities, there are many other ways hackers can exploit your website. Using secure passwords and installing security plugins like Wordfence is a great start.
Conclusion
We've covered quite a bit, so here are some lasting points to take away:
Over 60 million people have chosen WordPress to power their website.
Wordfence tracks around 18000 attacks per minute on the small portion of WordPress websites that have their security plugin active.
WordPress, Plugins and Themes release regular updates to keep you secure.
You should process updates on a regular basis.
Consider extra security such as a security plugin.
Stay secure and avoid the unwanted costs and damage of a malicious attack!
Stay tuned for more information on keeping your WordPress website secure!
Get the latest digital news and tips
Sign up for regular website and digital services news, useful
tips and product updates via email.
If you would like to hear about our WordPress maintenance services, please contact us here or call us now on 0113 469 4583.
Like this post? Share with just a couple of clicks!